I am so excited to be blog swapping with Keri today!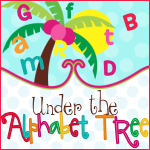 Today I'm going to be sharing with you an idea I got from my co-worker, Lisa! I was lucky enough to get new tables in my classroom my 2nd year of teaching! I started naming my tables by coins because my students had such a hard time with identifying coins. But since that is not a kindergarten standard anymore, I wanted to make some new signs that I can change out through the year to help reinforce some big standards that my kiddos NEED to have mastered before 1st grade!
The table signs are a great tool to help teach kindergarten skills in every day situations! These will be great in calling by tables to come to the carpet, to line up, to earn points for following directions or to call attention when need be! These can be switched out easily if you hang them from some fishing wire and a paper clip! I will slip mine into a sheet protector and hang from the paperclip... like pictured here:
They can easily be switched out through the year! The barrel of monkeys you see pictures above were used to reward tables who were following directions as a whole! When they earned 5 monkeys, they got a prize from the treasure box. But when you download my freebie, be sure to check out the last few pages because I created some small pictures that match the table signs. You can tape them on your whiteboard, and mark the tables with tally marks as they are modeling good behavior! =)
Some rewards you could use could be:

5-10 minutes of free play at the end of the day
First dibs on computers
Read with a friend
Prize from treasure box
Stickers
New, fun pencil and more!!!
I am sharing my table signs FOR FREE with you and in return I hope you follow my blog! I post freebies all the time!
Table Signs
I also just opened my TPT store recently! I just posted my student's organizational S.T.A.R. binders last night, so be sure to check them out!
Now, if you have any other ideas of how my signs can be used, please be sure to share by commenting! And if you have any other suggestions on skills that can taught towards the end of the year, be sure to let me know! I always welcome suggestions!
Thanks so much Keri for letting me post on your blog!
Sincerely,
Jessica